Please join me in Page, Arizona for a 4-day Art Festival to open the Lake Powell recreational season!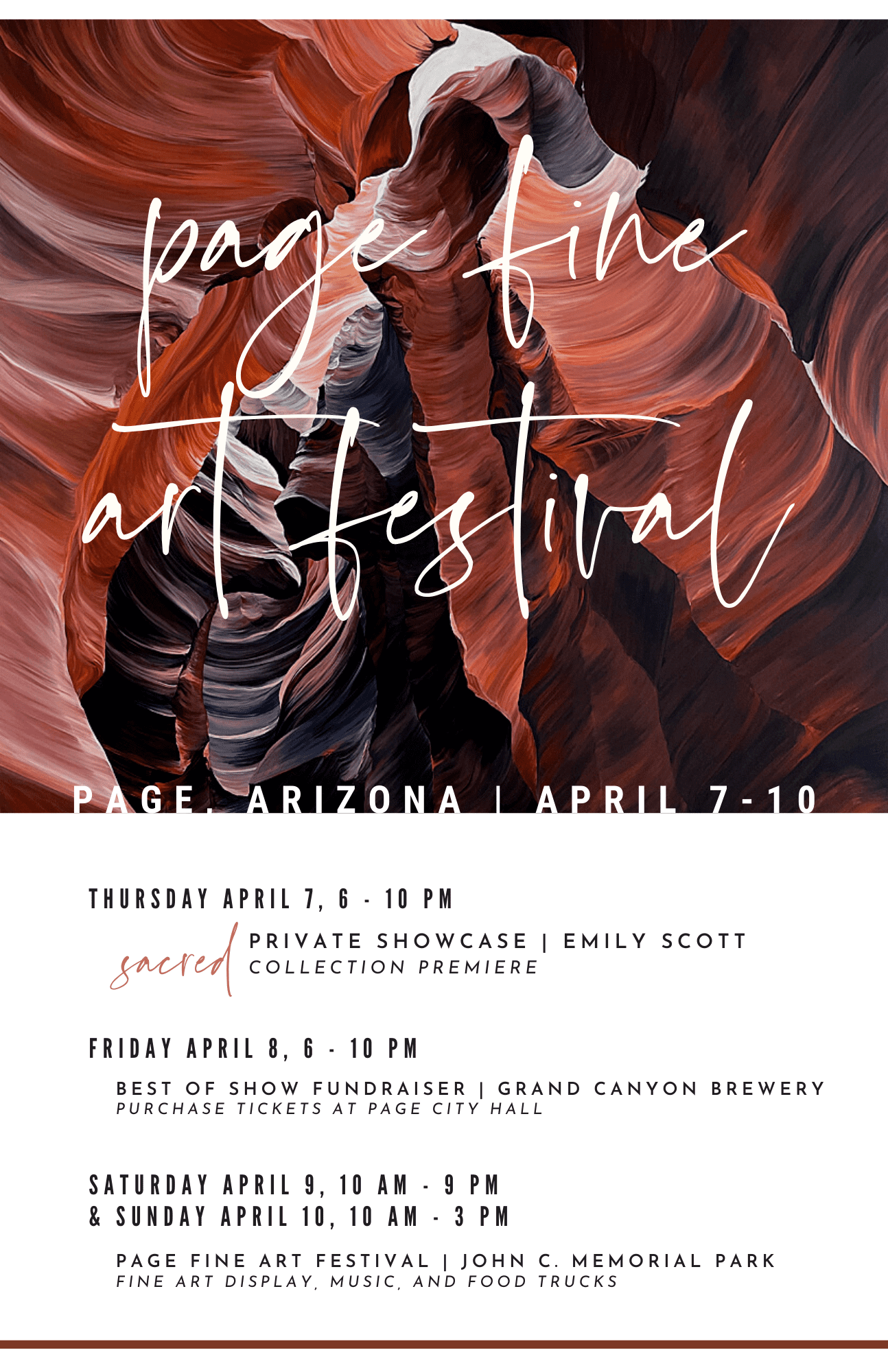 In addition to the festival in the park, there will be a massive Easter egg hunt, a distillery opening, a reception, canyon tours and more! Join the Page community in honoring and celebrating these sacred lands with us.
There will be opportunities to win a large canvas print, as well as purchase the originals and signed, limited edition prints!
Don't think you'll be able to make it?
You can Pre-Order your Signed, Limited Edition Prints right here!
Signed and Numbered Limited Edition Morph Print | 11″ x 14″

$

135.00

$

135.00

These signed, limited edition fine art prints use museum quality inks with a permanence rating of up to 200 years. Print is 11 x 14 inches (27.9 x 35.6 cm) and includes a 1″ white border to allow for signature and matting. Your print will arrive flat, unmatted and unframed, ready for your personal finishing touch!

The archival paper is Breathing Color Optica One:

Matte finish, textured surface with no glare
Paper weight of 300gsm
Bright white, with hand cut edges

We are ever-evolving beings. Even in this lifetime we're evolving from birth to death. We're learning, we're struggling, we're growing, we're adapting. We're scarred, we're traumatized, we're recovering, we're figuring out who we are all day, every day. Being aligned with your Self and being of service doesn't always look the way you think it's going to. I've come back around to that place of trusting in the unfolding and fully trusting my intuition – a place I didn't realize I had left – but without contrast we can't see, can we? You rarely realize that you're transforming at the time. But when you are on the other side of that metamorphosis, you barely recognize that previous version of yourself. You slowly come to see the beauty in that old you, and how she created the you of today. And then, how grateful you are that she did.

Add to cart

Signed and Numbered Limited Edition Reach Print | 11″ x 14″

$

135.00

$

135.00

These signed, limited edition fine art prints use museum quality inks with a permanence rating of up to 200 years. Print is 11 x 14 inches (27.9 x 35.6 cm) and includes a 1″ white border to allow for signature and matting. Your print will arrive flat, unmatted and unframed, ready for your personal finishing touch!

The archival paper is Breathing Color Optica One:

Matte finish, textured surface with no glare
Paper weight of 300gsm
Bright white, with hand cut edges

Have faith in the Divine plan. The universe is leading you down the path of most benefit for you, and of the lessons that you need to learn. Trust can open doorways to growth and creation you never dreamed you were capable of. Reach for your greatest potential – you have no idea the impact of even your gentlest efforts when supported by consistency. Stretch yourself, strive to know yourself, remember that the journey does not end – you're reaching for joy and peace NOW, in this moment.

Add to cart

Signed and Numbered Limited Edition Sacred Print | 11″ x 14″

$

135.00

$

135.00

These signed, limited edition fine art prints use museum quality inks with a permanence rating of up to 200 years. Print is 11 x 14 inches (27.9 x 35.6 cm) and includes a 1″ white border to allow for signature and matting. Your print will arrive flat, unmatted and unframed, ready for your personal finishing touch!

The archival paper is Breathing Color Optica One:

Matte finish, textured surface with no glare
Paper weight of 300gsm
Bright white, with hand cut edges

Sacred is a collection of work born of a return to the Self; a return to source, the roots of our existence. We cannot take these sacred places for granted. We are of the earth; WE need the earth to survive…we are nature. Sacred places such as these are what is true, what is natural, what should be protected and valued.

The Sacred collection is meant to take you inside yourself, to a place you might not go often enough. The place where you can find stillness and truth, silence alongside the echo of your knowing.

Add to cart